Geoff Hartwell: Home
^^^^NEW ARTICLE IN VINTAGE GUITAR MAGAZINE!!!^^^^
BREAKING NEWS!!! BREAKING NEWS!!! BREAKING NEWS!!!
The new GEOFF HARTWELL CD is now available!!

We were joined by three of my favorite musicians on the planet Dana Colley, Cindy Cashdollar and Sonny Landreth. It's an incredible thrill to be able to collaborate with these unique and amazing musicians.
The incredible Bari Sax player Dana Colley played on two tracks, one of which is the title song, "Hate to See you Go". Dana came to prominence as the driving melodic force in the unique Boston band "Morphine" who I saw a lot in the 90's and still love today. (Check out new additions to the PHOTOS page!)
My friend Cindy Cashdollar (Lap steel for Bob Dylan, Van Morrison, Ryan Adams, etc.) joined me in the studio on another session to put some beautiful tracks on two songs as well. It was a pleasure to play with her again, and an adventure finding good margaritas after!
Slide guitar legend Sonny Landreth came in and did a session while he was in town playing with Jimmy Buffet. He played on the song that will open the new record and I'M REALLY EXCITED!!!

CHECK OUT NEW VIDEOS WITH SONNY LANDRETH!


>>You can now get copies of my NEW Instructional DVD "Ultimate Slide Guitar: Esssential Slide Techniques"!!! I'm really proud of it, and I hope you'll like it!

CLICK THE COVER TO VIEW TRAILER OR PURCHASE!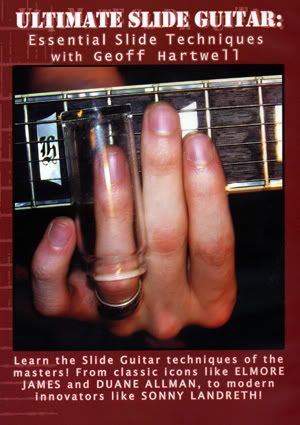 *HERE'S A VIDEO OF "DREAMS" from the new CD!*

*AND HERE'S A VIDEO OF "TUMBELINA"!*

and "DRINKIN BOURBON"!
THANK YOU FOR SUPPORTING ORIGINAL LIVE MUSIC!
YOU'RE THE BEST!